BIRDING AND BOATING WITH ….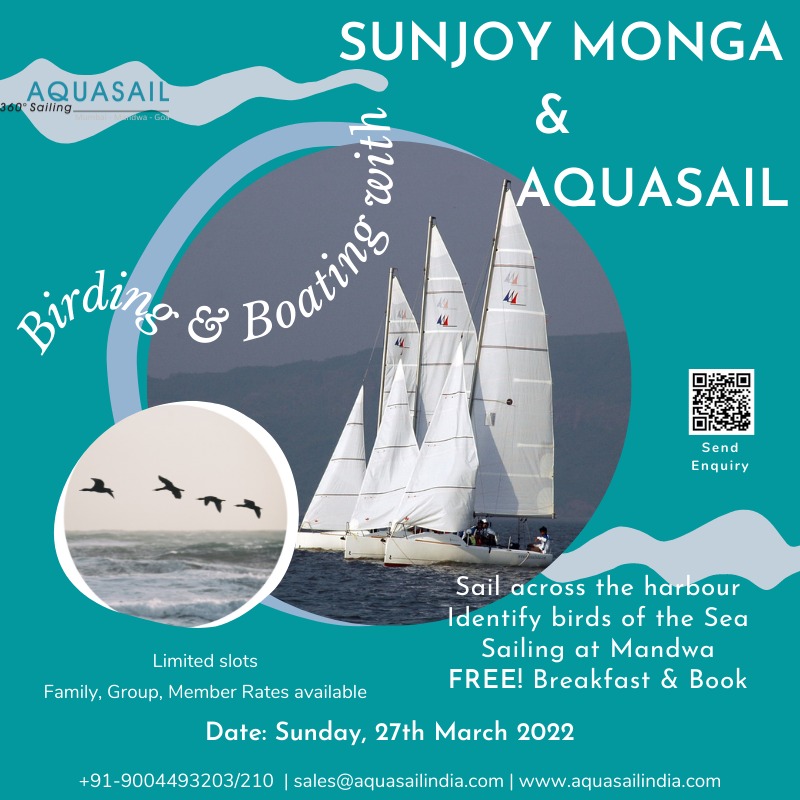 A unique week end : with birds and boats, With Sunjoy Monga and Zia Hajeebhoy
Birds Fly, Boats Sail. Lets meet our feathered friends on water and at Mandwa beach with the famed author and conservationist Sunjoy Monga. We will sail across the harbour in Aquasail yachts meeting gulls along the way. Waders and more will greet us at Mandwa beach. A breakfast chat with Sunjoy, and a sail in a world class beach boat are all included. Meet Zia Hajeebhoy who will share with the joy of sailing. Learn basics of sailing from Aquasails highly qualified instructors as you sail across
Price : Rs. 5900/- incl of taxes | Member Rates and group rates available
Program:
6.45 am : Report at Gateway of India, Jetty 5
7.00 to 8.30 am: sail across the harbour. Learn basics of sailing as we bird watch on the sea
8.30 to 9.30 : Brid watching on Mandwa Beach
9.30 to 10.30 : breakfast under palm trees and blue skies with Sunjoy Monga at the Aquasail Sailing Lounge at Mandwa
10.30 to 11.30 : Beach Sailing (optional )
11.30 onwards: change, freshen up
1.00 p.m. : depart for Mumbai by ferry
Inclusions and Value adds
1. Bird watching With Sunjoy Monga
2. Signed copy of guide book by Sunjoy Monga : complimentary
3. Lots of time to chat and get to know SUNJOY
4. Sailing Across the harbour in 25 foot sailing yachts: a unique experience
5. Basics of sailing for those interested
6. One world class beach sailing experience: complimentary
7. Wholesome breakfast under blue skies and palm tress
8. Facilities for shower and change
9. Chat with Zia Hajeebhoy : passionate sailor and life coach and trainer
10. Deep Discount Voucher to sail again
Optional (paid for basis)
1. Option to enjoy more beach sailing, windsurfing, kayaking: Extra Cost
This is a wonderful bird watching experience for the first time ever in India for enthusiastic birding enthusiasts who can view birds while out at sea.