Corporate Leadership Development Programs on board a 20 ft Sports Yacht
Transform your Organization – Build Leadership, teamwork, collaboration, communication skills, entrepreneurship, risk management, creativity…all through sailing experiences
We're a 15 yr old leisure sailing company. We have over 80 boats (including 20 ft, sports yachts), and 3 Sailing Centers – in the Grand Hyatt – Bambolim, Goa. At Colaba – Mumbai, and at Mandwa (opposite the Mumbai harbour). These centers have changing rooms, showers, overhead projectors, and facilities for meals/banquets
Some of our happiest customers are Corporates whose management teams we've transformed with our unusual training programs – Banks, Pharmaceuticals, Fashion Brands, IT Giants, Manufacturing companies…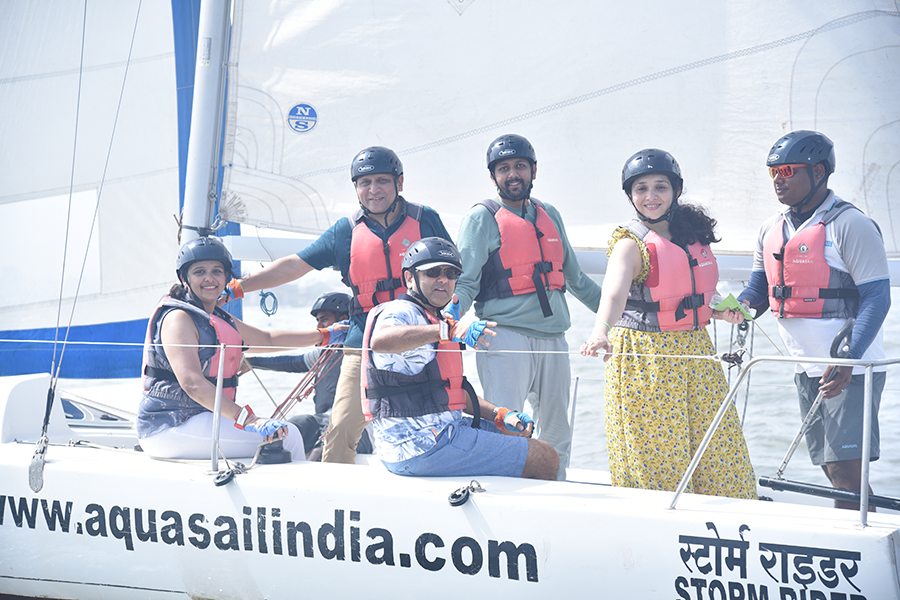 Team Building @ a tyre manufacturing company
Top Management and Leadership  Teams spent a whole day, sailing, kayaking, and windsurfing. Through these sailing experiences they learnt to work more closely together…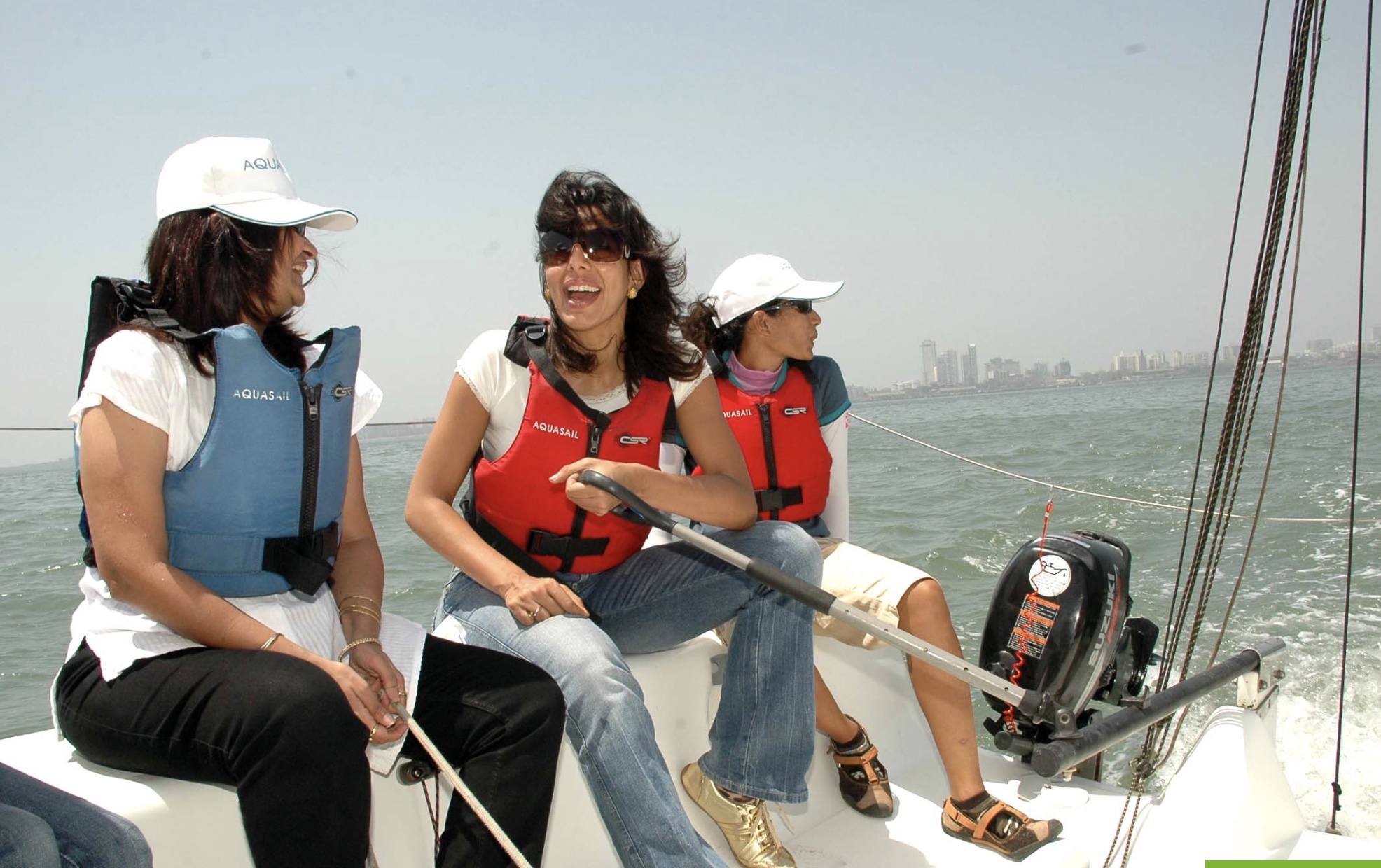 A Bank's employees and top management ventured out of their usual ttraining rooms and onboard our 20 ft sports yachts! They raced in a thrilling sailing regatta, they raced in kayaks, they challenged their sense of balance and their powers of endurance on windsurf board. They learnt determination, courage, leadership, communication, planning, the power of preparation and practise.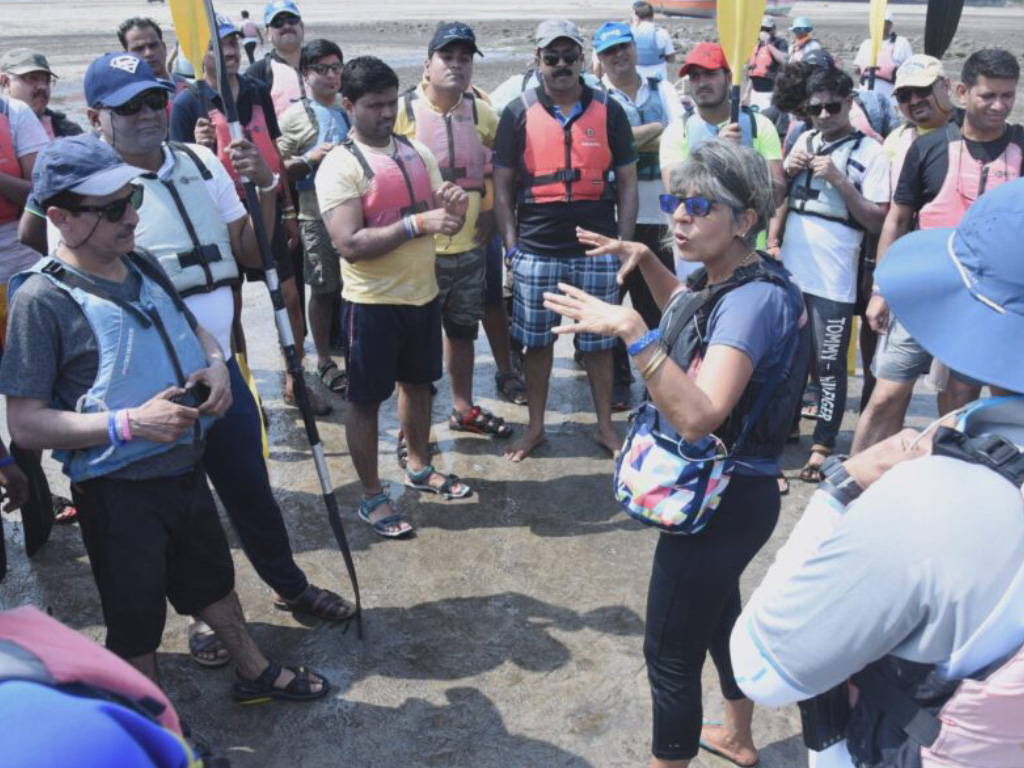 They were tired of the usual employee engagement programs held in training rooms indoors, so they dared to come out on the sea.s They Sailed sports yachts, catamarans, small dinghy boats. They raced in kayak and learn competition, teamwork, leadership… sailing can teach you so much!
Most recently, our sailing center at Mandwa was host to 150 employees and managers from a tyre manufacturing company. Two whole days, sailing, kayaking, and windsurfing – and these managers learnt teamwork, leadership skills, entrepreneurship, risk management, communication skills, and even basic life skills.
Because sailing, windsurfing, and kayaking teach you all that and more.
There's something very down-to-earth and magical about being a team out on the sea, on a 20 ft sports yacht, at the mercy of raw elements – wind, water, tide, your captain, and your crew members.
Harmonious teamwork and powerful leadership skills emerge as these corporate managers energetically pull ropes and adjust sails, feel the movement of the boat's rudder, coordinate and communicate skillfully with each other, race in thrilling regattas, balance precariously of a windsurfing board, compete in kayak races… it's a truly unusual and very memorable corporate training program. Even conventional HR Heads are amazed by the results.
If you would like to discuss how we can transform your organization, fill out the form below. We'll get back to you to set up a presentation. Or call:
Mumbai Centre: 9004493203 | 9004493209 | 9004493219
Mandwa: Centre: 9004493203 | 9004493209 | 9004493219
Goa Centre: 9004493203 | 9004493219
Or email [email protected] with the subject line: Corporate Training via Sailing
 Three Fantastic Sailing Destinations
Join us at any of our 3 sailing lounges and soak in the experience of a whole new kind of Corporate Training Programs. At Mumbai, soak in the iconic cityscape as you sail by the city. Experience the raw beauty of the wind and the sea at Mandwa. Bask in the sunlight and sea-breeze at Goa.
We have something that every Corporate HR Manager dreamed about!
We are hiring!
Exciting job openings for Sales & Business Development professionals for a company pioneering world class leisure boating in India!
We are building a team to deliver and take leadership of various business segments keeping in mind our growth in sales and expanding business operations. We have various roles at mid and senior levels across the following business segments.