Are you looking to boost your team morale? Come discover Aquasail; the pioneer of leisure sailing in India. Operating out of Sundrenched Goa, Iconic Gateway and Magical Mandwa, we offer you a cohesive team-building experience through our world-class water sports adventures.
Sailing is the quintessential example of a stimulating, competitive yet highly congenial and engaging team building activity. There are various roles to perform while sailing, that require clear communication and team synchronization for maximum efficiency. Immersing your group in a busy and unfamiliar environment will harness their problem-solving skills as a team.
With over fourteen years of providing first-class sailing, Aquasail will provide you with a holistic corporate team-building experience reinforcing your brand and augmenting employee incentives. You will be spoilt for choice, as you engage in our sailing ventures with our fleet of boats ranging from a wide variety of dinghies, kayaks and catamarans. The guidance and service of international and exceptionally qualified and experienced sailors paired with our high safety standards allows you to let go and soak in every bit of these serene escapades. Traversing the rhythmic pulse of the ocean with our more thrilling and adventurous water sport activities like kayaking, windsurfing and kitesurfing will be exhilarating.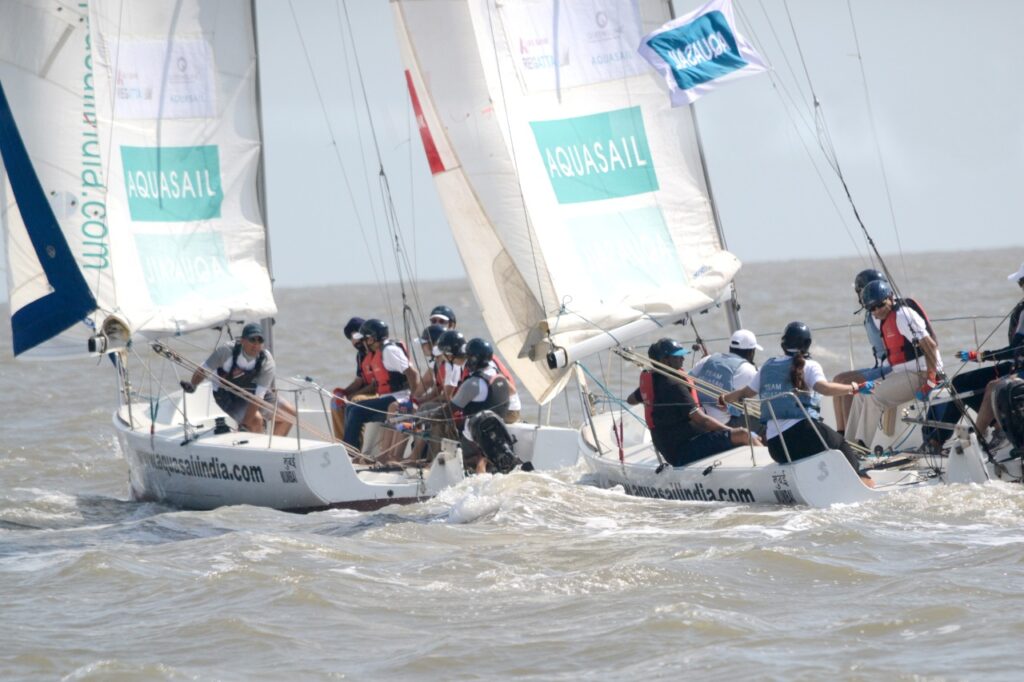 So why will your corporate team love sailing the regatta in particular? By doing this sail challenge, your management can identify the patient listeners, versatile communicators and quick learners as they team up to identify the points of sail and learn to set sails for maximum efficiency using strategic planning and fast decision making. Moreover, it teaches and culls interdependency and empathy, being perfectly designed and structured for team-building lessons. We like to think of our regatta sailing as the perfect metaphor for business and life.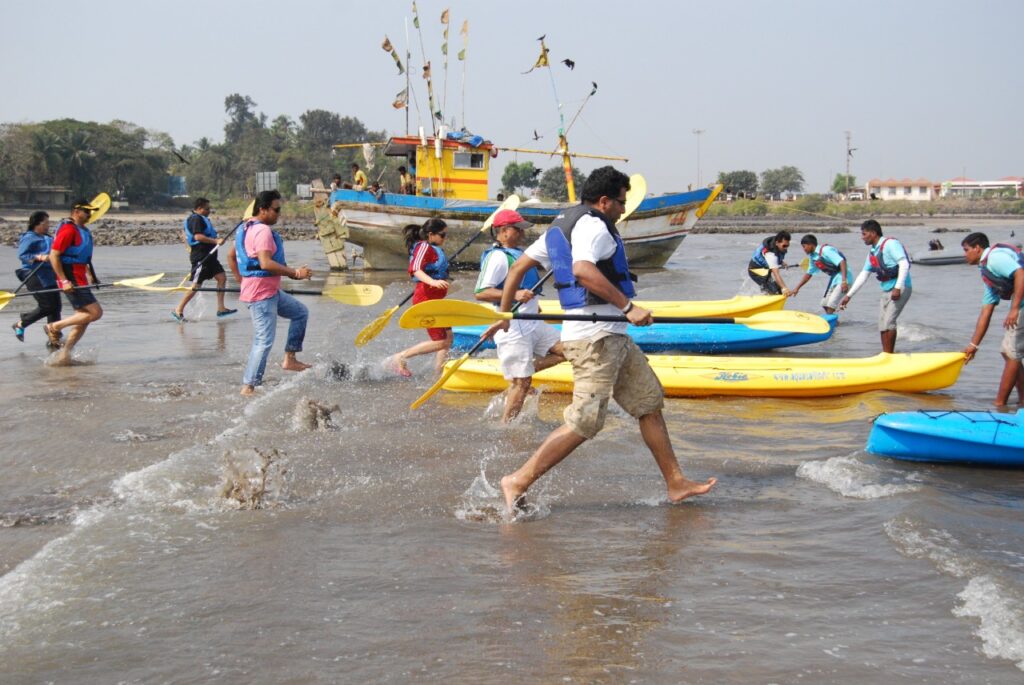 Our kayak racing is a fantastic race that puts the crew in a situation to abandon pre-existing issues and share the experience of invaluable team cohesion. Balancing on Windsurfing boards is a great way to teach the employees to make a trying environment ideal by adapting and overcoming. Boosting peoples sense of confidence by validating their ability to take on new and seemingly challenging situations achieved by partaking in our activities. This sense of confidence translates into a more self-assured, unafraid, and secure employee who isn't afraid to take on risks and has the presence of mind and trust in themselves to tackle challenging situations that inevitably arise in corporate life. Watch your team work in steady and consistent synchronicity as they find their perfect balance.
We offer the perfect aftercare indulgence post your company adventure. Relax and unwind as a team in our lounge well-equipped to awaken your body and recharge the company spirit.
So, come up with a game plan and confer with our competent staff to tailor the perfect corporate day out! This journey of self-discovery and collaboration will surely rejuvenate your team members, thus enhancing your company's performance.
Book your adventure today and choose from gorgeous locations such as Sundrenched Goa, Iconic Gateway and Magical Mandwa.